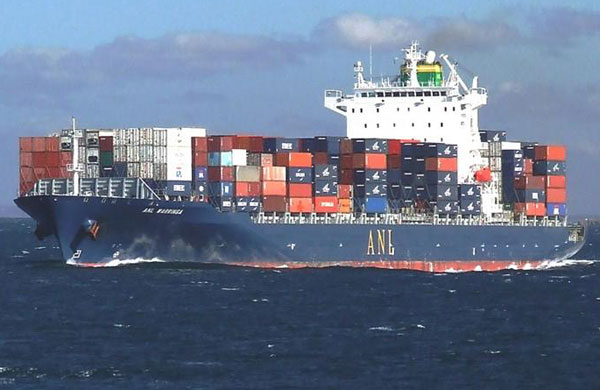 O recipiente navío ANL Warringa barco é impresionante e moderno, que forma parte da flota e é operado pola empresa de transporte marítimo Rickmers SHIPMANAGEMENT Singapur. O buque foi construído en 2007 por Dalian Shipbuilding Industry Group no seu estaleiro en Dalian, China. O buque está atendendo a todas as esixencias e normas da IMO para estabilidade, operacións de seguridade e ambientais. A lonxitude total do buque porta-colectores é 260.00 m, mentres a lonxitude entre perpendiculares é rexistrada 244.50 m. O feixe do barco de carga 32.25 m, a profundidade é 19.30 m eo calado máximo é 12.60 m. ANL Warringa é óptimo e realmente grande vaso, que mellorou a capacidade de enxeñaría e forte. O peso morto de verán do barco 50,629 DWT, o arqueo bruto é 39,906 Toneladas de arqueo bruto eo arqueo líquida é 24,504 NT. Con estas grandes dimensións e tonelaxe do buque ten capacidade para 4,250 TEU (ou 2,805 INCENDIO). O buque é realmente moderno, como a bordo pode ser cargado 400 contedores Reef, o que é importante para transporte de produtos perecedoiros. O navío porta-colectores, é realmente moderno e de confianza, ter unha chea de novidades e innovacións na estrutura e enxeñaría de casco.
The cargo ship ANL Warringa (IMO: 9324837) has strong, low revolution engine, which provide high power and allow the vessel to operate with the needed high speed. O principal motor instalado a bordo é MAN B&W 8K90 MC-C, que ten potencia de saída total de 49,000 hp en 104.0 rpm. Such high power allows the vessel to have maximum speed of over 23.0 nós, while the service speed is about 20.5 nós. On board of the container ship ANL Warringa are installed also four auxiliary diesel generators, cada un con unha cadea de 1,700 kW, which ensures the proper work of the bow-thruster and equipment on board. The container vessel has also emergency generator with power of 200 kW. The shipbuilders created really reliable and strong engineering and propulsion system, which has system for fuel injection in the main engine with low consumption. The ship is really profitable and environmental with low CO2 emissions and high power. The fuel consumption of the container ship ANL Warringa 133.40 metric tons per day at service speed and the independence by sea is over 20,000 millas náuticas.
Definitely the container ship ANL Warringa is one of the most profitable and most interesting vessels built ever. The ship has large capacity of TEU and many reefer plugs, which increase its usability and increases the possible cargoes, which can be loaded. Also the low fuel consumption and low CO2 emissions are making the operations of the ship more environmental. The strong engineering and propulsion system ensure high speed and lower ETA. The ship ANL Warringa has classification of GL + 100 A5 container ship RSD SOLAS II 2 Reg 19 +MC AUT, registered under the flag of Marshall Islands.
More information about the container ship ANL Warringa:
• Lonxitude: 260.00 m
• Boca: 32.25 m
• profundidade: 19.30 m
• Proxecto: 12.60 m
• Deadweight: 50,629 DWT
• arqueo bruto: 39,906 GRT
• Tonelagem Net: 24,504 GRT
• Capacidade: 4,250 TEU
• Motor: MAN B&W 8K90 MC-C
• Poder: 49,000 CV
• Velocidade: 13.0 kn
• estaleiro: Dalian Shipbuilding Industry Group in Dalian, China
• Ano: 2007
More photos of the container ship ANL Warringa: