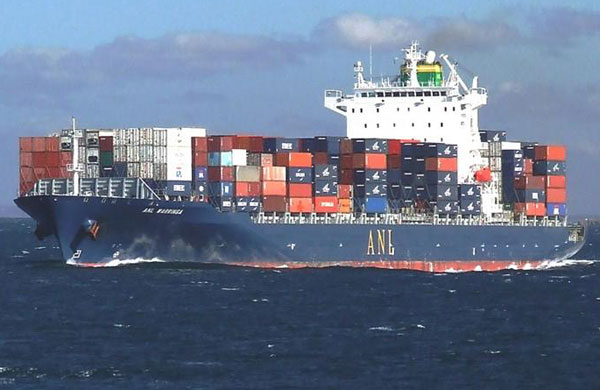 The container ship ANL Warringa is impressive and modern vessel, which is part of the fleet and operated by the maritime transport company Rickmers Shipmanagement Singapore. The ship was built in 2007 by Dalian Shipbuilding Industry Group in their shipyard in Dalian, China. The ship is meeting all the requirements and standards of IMO for stability, safety and environmental operations. The overall length of the container ship is 260.00 m, while the registered length between perpendiculars is 244.50 m. The beam of the cargo ship is 32.25 m, the depth is 19.30 m and the maximum draft is 12.60 m. ANL Warringa is optimized and really large vessel, which has improved capacity and strong engineering. The summer deadweight of the ship is 50,629 DWT, the gross tonnage is 39,906 GRT and the net tonnage is 24,504 NT. With such large dimensions and tonnage the ship has capacity for 4,250 TEU (or 2,805 FEU). The vessel is really modern, as on board can be loaded 400 reefer containers, which is important for transportations of perishable products. The container ship, is really modern and reliable, having a lot of developments and innovations in the hull structure and engineering.
The cargo ship ANL Warringa (IMO: 9324837) has strong, low revolution engine, which provide high power and allow the vessel to operate with the needed high speed. The main engine installed on board is MAN B&W 8K90 MC-C, which has total output power of 49,000 hp at 104.0 rpm. Such high power allows the vessel to have maximum speed of over 23.0 knots, while the service speed is about 20.5 knots. On board of the container ship ANL Warringa are installed also four auxiliary diesel generators, each with power of 1,700 kW, which ensures the proper work of the bow-thruster and equipment on board. The container vessel has also emergency generator with power of 200 kW. The shipbuilders created really reliable and strong engineering and propulsion system, which has system for fuel injection in the main engine with low consumption. The ship is really profitable and environmental with low CO2 emissions and high power. The fuel consumption of the container ship ANL Warringa 133.40 metric tons per day at service speed and the independence by sea is over 20,000 nautical miles.
Definitely the container ship ANL Warringa is one of the most profitable and most interesting vessels built ever. The ship has large capacity of TEU and many reefer plugs, which increase its usability and increases the possible cargoes, which can be loaded. Also the low fuel consumption and low CO2 emissions are making the operations of the ship more environmental. The strong engineering and propulsion system ensure high speed and lower ETA. The ship ANL Warringa has classification of GL + 100 A5 container ship RSD SOLAS II 2 Reg 19 +MC AUT, registered under the flag of Marshall Islands.
More information about the container ship ANL Warringa:
• Length: 260.00 m
• Beam: 32.25 m
• Depth: 19.30 m
• Draft: 12.60 m
• Deadweight: 50,629 DWT
• Gross Tonnage: 39,906 GRT
• Net Tonnage: 24,504 GRT
• Capacity: 4,250 TEU
• Engine: MAN B&W 8K90 MC-C
• Power: 49,000 hp
• Speed: 13.0 kn
• Shipyard: Dalian Shipbuilding Industry Group in Dalian, China
• Year: 2007
More photos of the container ship ANL Warringa: