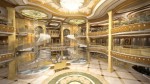 Peter Knego continues his visit to the famed Monfalcone-based Fincantieri shipyard with a press tour of Princess Cruises' under-construction, 141,000 gross ton, 3,600 passenger ROYAL PRINCESS. Part two covers the massive new ship's interiors and cabin mock-ups.
Princess Cruises
Keep up to date with Peter Knego on Twitter by clicking here
All photos by and copyright Peter Knego 2013 unless otherwise noted.
Tuesday, March 26, 2013
Continue reading »