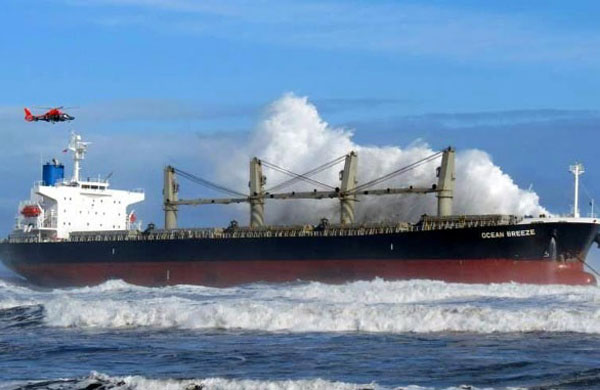 The bulk carrier Ocean Breeze dragged anchor and went aground in a sandbank on the Llolleo Beach in Arica, Chile. The vessel arrived on the anchorage in front of the Chilean port, but because of the storm and heavy sea dragged the anchor to the beach. The bulk carrier Ocean Breeze hit the ground and was not able to re-float by itself. The coast guard helicopter saved the crew on board, as there was serious danger of overkeel of the ship. The bad weather and the heavy sea are causing serious interruptions of the shipping in the region, as there is no information to improve next 1-2 days. Before decreasing of the waves, there is no ability to salvage and refloat the bulk carrier. The ship Ocean Breeze is fully loaded with wheat and soy beans, so according to the salvage plans, the ship will be lightened before tugged back to deep waters.
This is the second similar accident with the bulk carrier Ocean Breeze, as one week ago the vessel aground in the Chilean port of San Antonio. The reasons for the previous accident was the same – dragging anchor, as the local port authorities requested full inspection and survey of the ship after the refloating of the ship.
The bulk carrier Ocean Breeze (IMO: 9309667) has length of 183.00 m, beam of 32.00 m and maximum draft of 6.70 m. The summer deadweight of the vessel is 52,289 DWT and the gross tonnage is 30,067 GRT. The ship was built in 2006 by Tsuneishi Heavy Industries in their shipyard in Balamban, Philippines and operated by the Canadian company Fednav Group.