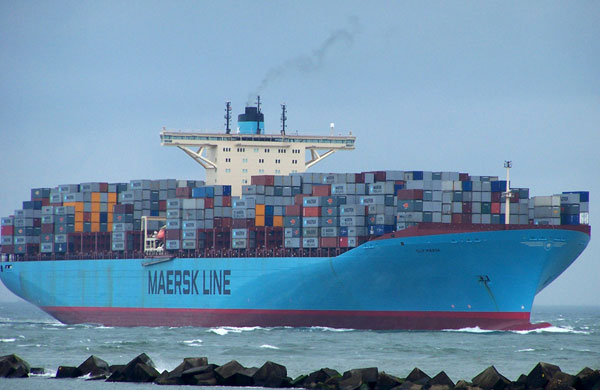 The container shipping is highly growing sector of maritime transport, where are introduced some of the most modern developments in marine engineering and shipbuilding. The large container ships, impress with dimensions, modern equipment and environmental operations. The vessel Elly Maersk is part of the fleet of Ap Moller Maersk and was built in 2006 in Odense Steel Shipyard. The ship impress us with size, engineering and modern equipment. Elly Maersk is designed according to the latest IMO standards, strictly following the Maersk requirements for safety and environmental operations. The container ship has overall length of 398.00 m, moulded beam of 56.00 m and depth of 30.00 m. The vessel has maximum summer draft of 15.00 m, when fully loaded with cargo. Elly Maersk has deadweight of 170,794 DWT, gross tonnage of 158,200 GRT and net tonnage of 55,396 NT. The ship is part from the E series of Maersk container ships and together with her sister-ships are the largest container vessels of the world. The capacity of Elly Maersk is 14,700 TEU, according to the IMO calculations for ship's stability. The improved capacity of the ship covers the demand of trans-ocean container carrying and decreases the price of the service. Elly Maersk was designed with increased safety and stability, strong hull construction and double hull technology.
The engineering of the container ship is powerful and reliable, providing high speed, which is highly needed by the vessel. The main engine of Elly Maersk (IM) is Wartsila-Sulzer 14RTFLEX96-C, which has total output power of 109,998 hp. Such high power is transfered to the propulsion system and propeller. The shipbuilders made powerful innovations in the propulsion system, to decrease the loses of power. Also the propeller is fixed pitch, with really large size 9.00 x 9.00 meters (as large as 3-storey house). Such powerful engineering allows the ship to operate with service speed of 25.5 knots, while the maximum speed is over 27.0 knots. The engineers from Odense Steel Shipyard, made some improvements in fuel injection system, which support the combustion, decreasing the consumption and CO2 emissions. The container ship Elly Maersk is definitely one of the most environmental vessels of the world. The low fuel consumption is ensured from the hull design and paint, which decreases the water resistance and overgrowing of the bottom. The innovations integrated into the container ship are really much, increasing the power and speed of the ship. Also the engineers made modern cargo handling programs, which highly decrease the time for loading and discharging in ports.
In any case the container ship Elly Maersk is one of the most modern and largest of the world. The strong engineering and new generation hull design makes the vessel really powerful and environmental.
More information about the container ship Elly Maersk:
• Length: 398.00 m
• Beam: 56.00 m
• Depth: 30.00 m
• Draft: 15.50 m
• Deadweight: 170,794 DWT
• Gross Tonnage: 158,200 GRT
• Net Tonnage: 55,396 GRT
• Capacity: 14,700 TEU
• Engine: Wartsila-Sulzer 14RTFLEX96-C
• Power: 109,998 hp
• Speed: 25.5 kn
• Shipyard: Odense Steel Shipyard in Odense, Denmark
• Year: 2006
More photos of the container ship Elly Maersk: