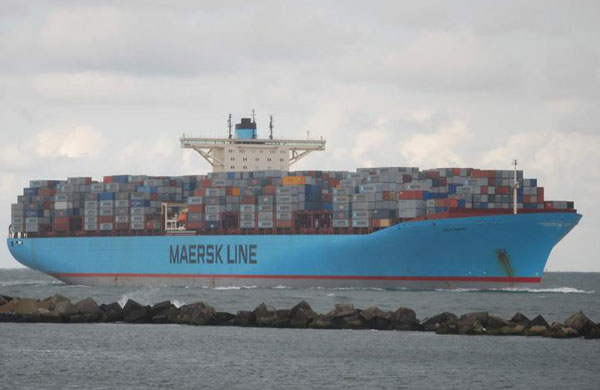 Container ships are among the most modern and most interesting vessels of the world. They have the most modern engineering and the most modern innovations in the hull design and propulsion system. Definitely the giant of container carrying is the cargo vessel Emma Maersk. This cargo ship is large, beautiful and environmental, including the most modern innovations of shipbuilding and engineering. Definitely Emma Maersk is the largest container ship of the world with capacity of 13,500 TEU according to company calculations. However the IMO calculations are giving even larger capacity of the cargo ship – 14,600 TEU. In both cases the figures are showing the Emma Maersk is large and majestic container ship. The overall length of the ship is 397.00 meters and beam of 56.00 meters. The depth of the hull of Emma Maersk is 30.00 meters and the maximum draft is 15.50 meters. Such measurements are good prove of the majestic design and size of the container carrier. Emma Maersk has deadweight of 156,907 m.t., gross tonnage of is 170,974 g.t. and net tonnage of 55,396 n.t.
The cargo ship was built in Odense Steel Shipyard Ltd, Denmark in 2006 and till that moment got all eyes with large size, large capacity and really environmental engineering. The main engine of the cargo ship is Wartsila 14RT-Flex96c, which is giving total output power of 109,000 hp and has size of 4-storey building. Also on board of Emma Maersk there are five Caterpillar 8M32 dieasel generators with total output power of 40,000 hp. Definitely the strong engineering and the improved design of the propulsion system is making Emma Maersk one of the most profitable and most reliable container ship of the world. The constructional speed of the ship is 25.2 knots, while the maximum speed is more than 27.5 knots.
The ship is owner and operated by Maersk Line Group and has regular routes between Asia and Europe.
More information about Emma Maersk container ship:
• Length: 397.00 m
• Beam: 56.00 m
• Depth: 30.00 m
• Draft: 15.50 m
• Deadweight: 156,907 m.t.
• Gross Tonnage: 170,974 g.t.
• Net Tonnage: 71,583 g.t.
• Capacity: 13,500 TEU
• Engine: Wartsila 14RT-Flex96c-C
• Engine Power: 109,000 hp
• Shipyard: Odense Steel Shipyard Ltd, Denmark
• Year: 2006
More photos of the container ship Emma Maersk: