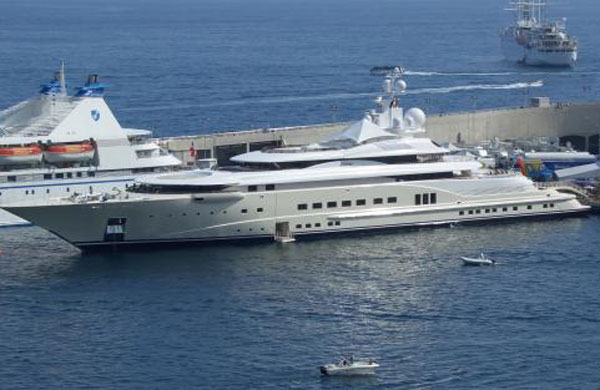 The second largest and most expensive yacht of the world is Pelorus, property of the Russian billionaire Roman Abramovich. This is really amazing and extremely expensive yacht, which is valued at price of 300 million USD. The yacht has length of 115.00 meters, beam of 17.20 meters and maximum draft of 4.66 meters. The gross tonnage of the yacht Pelorus is 5317 GRT and on board there are 9 cabins with capacity for 18 passengers. Such large dimensions are impressive, but even more interesting is the interior and luxury inside. Pelorus is created to impress and to show the richness of her owner. The yacht was built in 2003 in Lurssen yards in Bremen, Germany. The interior and exterior design is made by the yacht architect Tim Heywood, who created some of the largest yachts of the world. The yacht has powerful engineering, propulsion system, strong hull and stabilizers, which made the cruise really calm and beautiful.
The main engine installed on board of the yacht Pelorus is twin Wartsila 12V26, with total output power of 7200 hp. Such high power is enough for the yacht to have service speed of 19.0 knots, while the maximum one is 20.0 knots. Really the speed is not impressive, but we should consider that that yacht is made by steel and not created to be fast. The propulsion system is created with low vibrations and noise, so the guests may forget that they are cruising through the ocean. The yacht-builders thought about the comfort of the guests and their safety, so they installed passive and active stabilizers, which are highly decreasing rolling during the voyage.
Also the interior is designed according to the latest fashion trends. The yacht has dining room, lobby, 9 luxury staterooms for the guests with own bathrooms and WC. Also on board there is bar and small cinema. The guests can enjoy by practice water sports, driving jets and diving. On board of the yacht there is also fast motor boat and two helicopter caps. Also The yacht Pelorus has jacuzzi and many nice places for sunbathing. Definitely each guest on board will feel the luxury and the beauty of the yacht Pelorus. The aft part of the yacht there is really luxury and very romantic restaurant with capacity for all the guests on board. The yacht offers, not only luxury interior, but also 5 star service, provided by 42 crew members.
More information about the yacht Pelorus:
• Length: 115.00 m
• Beam: 17.20 m
• Draft: 4.66 m
• Gross Tonnage: 5,317 GRT
• Capacity: 18 passengers
• Engine: Wartsila 12V26
• Power: 7,200 hp
• Speed: 20.0 kn
• Shipyard: Lurssen yards
• Year: 2003
More photos of the yacht Pelorus: