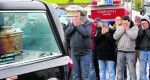 The State's investigation into the sinking of the fishing vessel Tit Bonhomme last year with the loss of five lives has found crew fatigue to have been the "single overriding causal factor".
The Marine Casualty Investigation Board (MCIB) report has been unable to establish who was on watch when the vessel ran aground on Adam's island at the mouth of Glandore harbor in the early hours of January 15th, 2012.
However, examination of the hull by Naval Service and Garda diving teams established that the 21-meter vessel was on autopilot and the engine in gear with a course set for Adam's island, and there was no "off course" alarm system.
Continue reading »