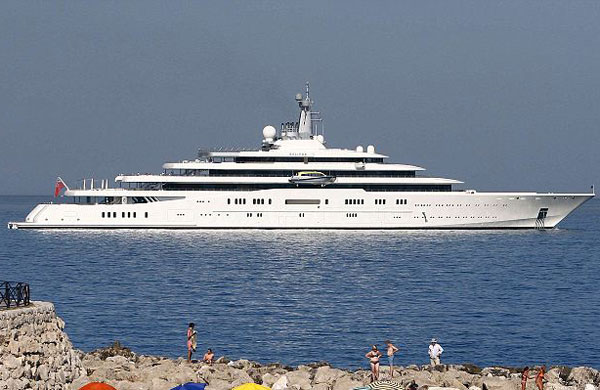 The yacht Eclipse is really the most beautiful and the most impressive one in the world. The luxury yacht is property of the Russian Billionaire Roman Abramovich and has worth of more than 1.2 billion USD. The yacht is large, as the overall length is 155.20 meters, the beam is 21.50 meters and the draft is 5.00 meters. The yacht Eclipse was ordered in 2008 in the Blohm & Voss Shipyard in Hamburg, Germany and completed in 2010. The luxury interior and the great design are making the yacht Eclipse really the most interesting one in the world. The yacht has five decks for the passengers and one navigation deck. The total area for the guests on board is over 5,000 square feet The engineering and the navigation equipment on board are according to the latest standards and innovations. The interior design was made by Terence Disdale and really can be compared to the most luxury hotels of the world.
The luxury vessel has 2 helicopter caps, 20 water jets and private submarine, which has capacity for 12 passengers and allow them to board the yacht invisible. Also the yacht has armored hull with protection B7 and special places for the guards on board. On board of the yacht Eclipse there are also a lot of systems for safety and most modern positioning systems. The design and technology on board of the yacht were kept is secret before launching the yacht, but even now it is hard to find a lot of information for all the technology. The yacht Eclipse has also very high quality engine, to provide reliability for long distance voyages. The main engine is MTU 20V 1163 TB93, which gives large output power to the propulsion system and the screw. The maximum speed of the yacht Eclipse is 26.2 knots, which is high speed for large steel yacht.
The engineering on board is reliable and strong, but the interior and the design will stop your breath. On board there are 6 guests apartment, which have capacity for 12 passengers. Also there are rooms for guards, staff and crew on board. The service is done by 36 crew members, who care about all the yacht and the guests. On board of the yacht Eclipse there are fitness hall, cinema, restaurant, bar, pool and large jacuzzi. The guests have all the necessary equipment for water sport, diving, fishing and sports. Definitely they will have the most impressive entertainments and will enjoy during the cruise.
It is good to be mentioned that Roman Abramovich is one of the largest yacht owners of the worlds. He owns four of the largest yachts such as Pelorus, Sussurro, Ecstasea and Le Grand Bleu.
More information about the yacht Eclipse:
• Length: 155.20 m
• Beam: 21.50 m
• Draft: 5.00 m
• Capacity: 12 passengers
• Engine: MTU 20V 1163 TB93
• Speed: 26.2 kn
• Shipyard: Blohm & Voss Shipyard
• Year: 2010
More photos of the yacht Eclipse: